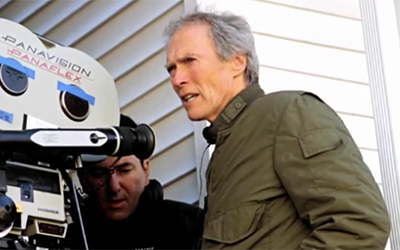 Eastwood Directs: The Untold Story (2013)
Eastwood Directs: The Untold Story chronicles the career of Clint Eastwood as told through the actors, writers, directors, and producers who have collaborated with Eastwood during his 55 years working in Hollywood. Written and directed by Richard Schickel in conjunction with Warner Bros Home Entertainment, the documentary premiered at The Tribeca Film Festival as part of its Directors Series on April 27th 2013. It also had its television premiere on Turner Classic Movies on May, 30th 2013. In addition to Eastwood the film includes interviews with Steven Spielberg, Meryl Streep, Kevin Bacon, Marcia Gay Harden, Tim Robbins, Hilary Swank, Tommy Lee Jones, Martin Scorsese, Brian Grazer, and Gene Hackman.
Meryl Streep, Brian Grazer, and Morgan Freeman talk about Clint Eastwood's temperament.
Marcia Gay Harden, Kevin Bacon, Tim Robbins, Gene Hackman, Meryl Streep, and Steven Spielberg talk about how quickly Clint Eastwood works and him asking for "one more take".
Steven Spielberg talks about Clint Eastwood casting his mother in an Amazing Stories episode.